OnMilwaukee's 15 Bucks‑themed assorted stickers and GIFs totaled over 9 million views (9,043,319 to be exact)!
Giphy, the platform that hosts the digital animations, doesn't track usage, only views. So if someone searches "onmilwaukee bucks" in Instagram Stories, that could produce 15 views with 1 search, because it will load a preview of every GIF.
Stickers and GIFs
Giphy makes a distinction between GIFs and stickers. It's a little confusing because both are technically GIFs, but the type of background in the image shifts the intended application of said GIF. If your GIF has a transparent background, it's a sticker which can be overlaid on Snapchat snaps or Instagram and Facebook Stories.
The GIF designation, on the other hand, doesn't have transparent pixels. These GIF GIFs would be found in places like Facebook posts and comments, Twitter posts, and mobile keyboards, and are often used as responses or reactions.
According to our results, stickers significantly out-paced GIF views in every race. This could mean stickers are more popular or easier to use, or it may just be because more stickers are loaded for every search. If you search "onmilwaukee bucks" in Instagram, you mostly get our designs. If you do the same search in Facebook, the results are diluted with animations from many other people.
The closest GIFs came to stickers was the Bango Sweep. It may have been promoted more strongly, or maybe it was popular enough to rise to the top of the search? We don't have the data on that one.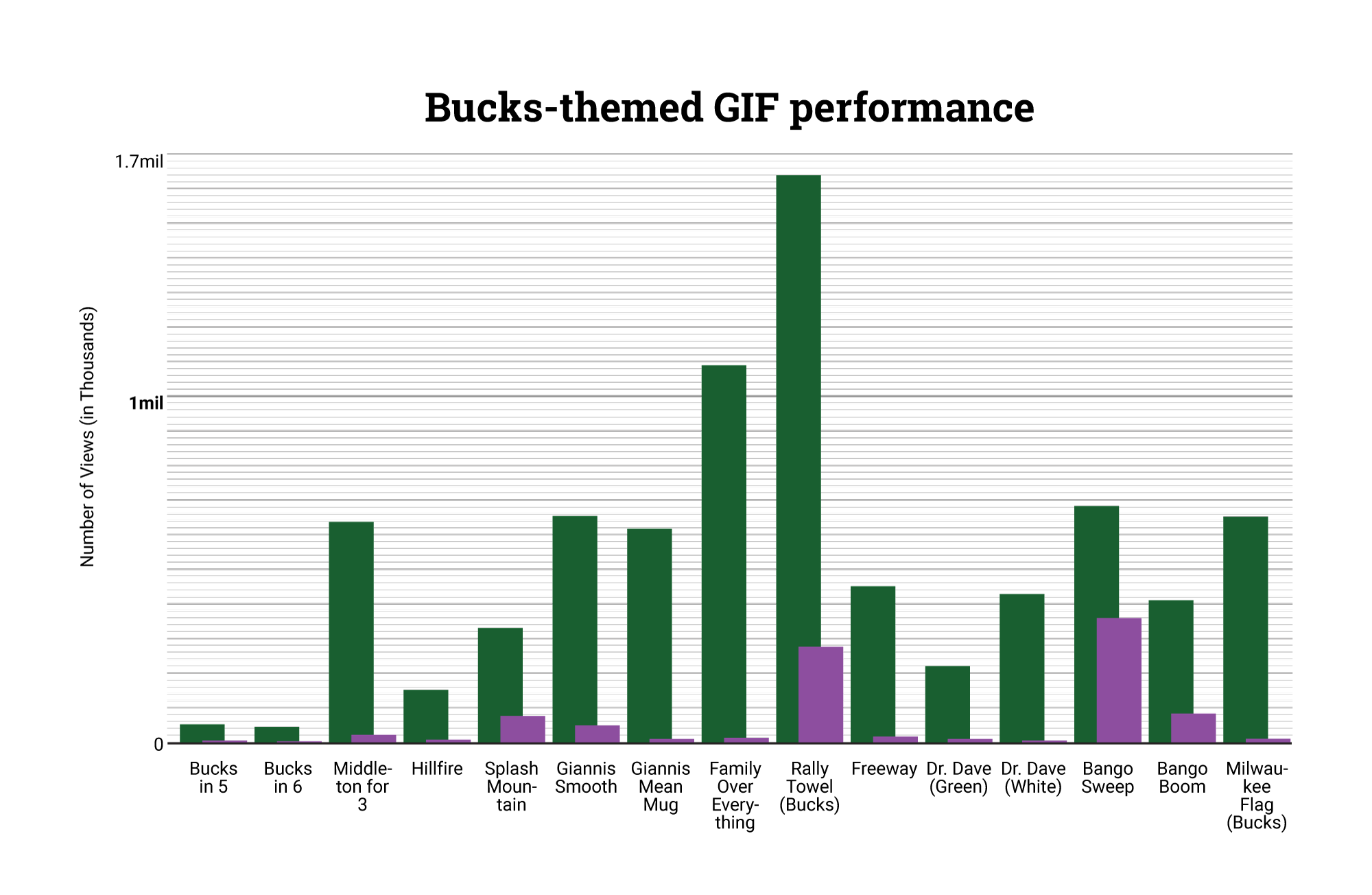 What was a hit?
The most popular GIF was the general purpose Fear the Deer rally towel (1.6 million views). A distant second with just under 1.1 million views was the Family Over Everything shoe drop, which, to be quite honest, was mis-labeled in the tag search and was probably coming up more often than it should (you can see the GIF performance was significantly lower).
Dr. Dave's white-haired GIF has been up since the beginning of our GIF initiative at the beginning of the year, but interesting to note in the last few days of the playoffs, the green-haired GIF caught up by nearly half!
Top 3
Depending on how you finesse the data here are the Top 3 with combined GIF and Sticker views
Purely by the numbers
Rally Towel – 1,918,095
Family Over Everything – 1,102,858
Bango Sweep – 1,042,684
Removing mis-labeled views
Rally Towel – 1,918,095
Bango Sweep – 1,042,684
Dr. Dave (White & Green Hair, since inception) – 705,448
Removing mis-labled views AND assuming only data from playoff initiative
Rally Towel – 1,918,095
Bango Sweep – 1,042,684
Giannis Smooth – 702,843